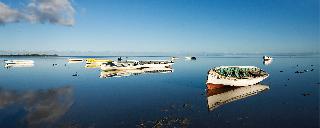 Beachcomber Resorts & Hotels is pleased to announce the appointment of Florence Decotter as Hotel Manager of Mauricia Beachcomber Resort & Spa. She becomes the first woman to hold this position within the Group. Florence Decotter succeeds Youssef Sabri who will take on new responsibilities at Domaine Palm Marrakech over the next few weeks.
Florence Decotter has a 30-year career with Beachcomber, all spent at Shandrani Beachcomber Resort & Spa, where she started in April 1991 as Reservation Manager. In 2002, Florence was promoted to Commercial Executive of the resort and four years later, she was appointed Executive Assistant Manager, spearheading various departments such as Rooms Division, Spa, Reception, Guests Relations / PR, Reservation, Groups & Incentives, and Beachcomber Boutiques.
"It's a great honour and privilege. I am very grateful for this mission entrusted to me and thank the Management of the Group for believing in me. Of course, I am sad to be leaving a team that I have known for so long and a place that I have cherished for so many years. However, it is also very stimulating to meet a new team and discover a new product," says Florence Decotter. "It promises to be a great human adventure at this point in my career. I thank the Shandrani Beachcomber team for accompanying me through all these years. I will always have great memories and great anecdotes. I will now have the pleasure of meeting and working with the wonderful team at Mauricia Beachcomber."
The Beachcomber Group wishes every success to the new Hotel Manager of Mauricia Beachcomber. "Florence has been part of the Beachcomber family for three decades now. She will be able to put her rich experience and remarkable know-how at the service of the development of Mauricia Beachcomber. We wish her every success in her new responsibilities", underlines Jean-Louis Pismont, COO of the Group. "We also thank Youssef, who held the position of General Manager of Sainte Anne Resort & Spa in the Seychelles from 2016 to 2019, before taking over the management of Mauricia Beachcomber in June 2019. During the past two years, he has been able to give a new lease of life at Mauricia Beachcomber and for a year now, he has efficiently managed the hotel, which has been converted into a quarantine centre. Youssef is leaving Beachcomber but remains in the Group as he will take on other responsibilities at DPM in Marrakech ", he adds.
Florence Decotter will take up her new duties at Mauricia Beachcomber on May 15th.