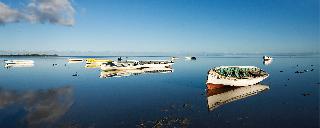 At a time when tourism is among the worst hit industries by the global coronavirus crisis, Beachcomber Resorts & Hotels is launching a very special post-COVID-19 offer as a token of appreciation to travel professionals.
After closing all its hotels, agreeing with the Government of Mauritius to use some of its properties as quarantine areas, distributing daily meals to caregivers and launching its "Safe Place" label ahead of the reopening of its 8 resorts under optimum health conditions, the hotel group is now showing gratitude to tourism professionals.
Tour operators and travel agents make a key contribution to the success of Beachcomber and the island's tourism sector in general; the leading hotel group in Mauritius therefore wants to reiterate its recognition to them in these unprecedented times for our industry.
The Group's partners will enjoy very preferential rates for their next holidays. For any stay before 20 December 2020, travel agency, tour operator and airline employees will get 30-50% discount on the rates that are usually available to them (50-70% discount on public rates) depending on the hotel and room category.
This offer is intended to give impetus to the travel sector while providing an opportunity for the Group's partners to come and try the new SAFE PLACE label. This certification applies to all Beachcomber properties and is aimed at better protecting its guests and Artisans while meeting new health, hygiene, safety and environmental requirements, especially against the background of COVID-19.
For information and bookings please click on the below link:
https://www.beachcomber-hotels.com/en/partner-offer
* except Royal Palm