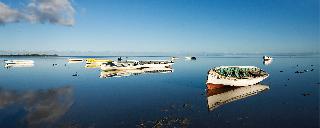 While the whole world is on "Pause" in an attempt to put a halt to the unprecedented health crisis that we have been facing for several weeks, the Mauritian hotel group has chosen to maintain partial operations in order to support efforts to stop the spread of Covid-19 and wants to thank all caregivers at the forefront of this pandemic.
After taking care of guests who have stayed back in Mauritius and made every effort to enable the last ones to return to their home country, Beachcomber has been working closely together with the Government to address the priorities and provide the best possible support.
The Group has agreed with the Government to use some of its hotels as quarantine areas. Its in-flight catering subsidiary, Beachcomber Catering also supplies meals daily to the island's quarantine centres and healthcare personnel while applying stringent health safety measures to protect its teams that are still in place.
"We are facing unprecedented times, undoubtedly the most testing period for our industry since its inception. However, I am sure that our unity and solidarity will help us overcome this epidemic at both national and international level," says the Beachcomber Group's CEO, Gilbert Espitalier-Noël. His thoughts also go out to all the patients and caregivers around the world who are involved in the fight against Covid-19.
Reaching beyond the borders of Mauritius, the hotel group wishes to lend its full support to those who put their lives on the line every day to preserve others' lives as well as assist and care for the sick around the world. Beachcomber and all its Artisans are preparing for recovery after Covid-19 and look forward to welcoming and taking care in turn of these epidemic fighters – nurses, aides, doctors, etc. Once things get back to normal, Beachcomber will activate a tailor-made offer in gratitude to those who have been working relentlessly for days and weeks, and showing selfless and courage to save lives. Indeed, the hotel group announced that it will be taking their accommodation bookings at cost price in its hotels in Mauritius for the year to come.