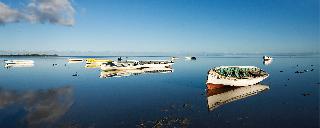 Cupid will be calling at Beachcomber hotels on Sunday 14 February 2016 with a host of special treats to celebrate love.
Beachcomber hotels' restaurants will spoil the lovebirds with an array of palate-tantalizing food. Here's a sneak peek of what awaits them.
On Le Morne Peninsula, couples staying at Paradis Hotel & Golf Club will be treated to a special evening at La Palma Restaurant, accompanied by the passionate sounds of a guitar player. The evening will continue with musical entertainment at the bar by a romantic duet, followed by a band. Dinarobin Hotel Golf & Spa has also planned a Mauritian evening with a toes-in-the-sand dinner at La Plage Restaurant while listening to the waves. On that special evening, the food supplement will be free of charge for the ladies for every couple booking.
In the north of the island, Le Mauricia Hotel will delight the lovebirds with a romantic dinner on the beach. The evening's menu includes a seafood platter for two. In addition, each lady will be offered a rose to mark the event. At Le Canonnier, a special menu will be crafted for couples at Le Navigator Restaurant.
Trou aux Biches Resort & Spa will join in with a Romantic Clarins Package for couples to enjoy together the delights of a treatment or massage before continuing to celebrate their love by sharing a dinner for two at La Caravelle Restaurant.
Shandrani Resort & Spa will combine two pleasures into one with a dinner at the spa. Three options are available, including the Unforgettable package with a one-hour massage for two, followed by a moonlit dinner. The In the Mood package includes a half-hour massage and a moonlit dinner, while the By my Side option will allow couples to enjoy a dinner-only evening. All three packages include a half bottle of champagne and rose petals as well as breakfast in the guests' rooms to extend the Valentine's mood.
In the Seychelles, Sainte Anne Island will celebrate the lovebirds with a special menu at Le Mont Fleuri Restaurant and a Valentine's Buffet at L'Abondance Restaurant.
These are all good reasons to let love rule!