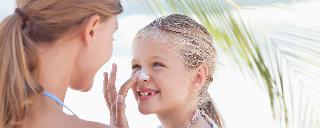 FIND YOUR BEACHCOMBER HOTEL FOR YOUR NEXT BEAUTIFUL HOLIDAY
To your children's delight
Memories of family vacations are some of those etched most deeply into our minds. Vacations are a time for parents to relax together while the kids discover new worlds of fun and adventure, creating memories full of dreams and freedom. Staffed by highly qualified, devoted artisans, our recreation centers are sources of delight for guests' young and old alike.
A free kids club for children aged 3 to 11.
Special rates applicable for children up to 17 years old.
An all-inclusive package free of charge for children up to 11 years old. Also available at a reduced price for children from 12 to 17 all year round.
Kids can share their parents' room or enjoy their own freedom in connecting bedrooms.
A range of suites, apartments or villas perfectly designed for families, with two separate bedrooms and bathrooms.
A variety of free land and sea activities, such as water-skiing, snorkelling, kayak, stand up paddle, tennis and biking.
A baby-sitting service available upon request.
Forever cherished memories...
The well-being of your offsprings is a priority for us. Your children can take full advantage of the tailor-made recreational activities in our kids clubs - which are free of charge, for kids aged between 3 and 11 years old!
They will forever cherish memories of the games they played and the fun they had in our kids clubs. They will have so many stories to share with their friends!
Your toddlers will be pampered too! We have a baby-sitting service on request. Your baby will be in the safe and expert hands of a lovely Beachcomber family member.
We have more good news for you!
If your children are sharing your room during the low season, it is on the house!
We have more for you...
We promise you fun and excitement for the whole family